Scroll down past the booking form to read information about and see photos of this wonderful cabin.
The Sea Otter Cabin – $80 a $80 night, $25 for the 3rd guest, 10% discount for 7 days, 25% discount for a one month stay
This cute 10×12 cedar Sea Otter Cabin  has a sort of vintage industrial feel to it with tile floors, black metal furnishings, a tin ceiling, and teal/yellow accents.  The futon bunk bed can sleep 3. The cabin has a table, an electric heater, small refrigerator, toaster oven, microwave, and a coffee maker.  While the Sea Otter does not have a sink, water and tubs are provided.  The large porch opens out onto a surreal mossy forest while the sounds of the surf (and the occasional whale spout) can still be heard.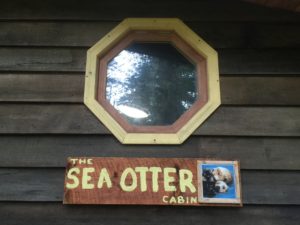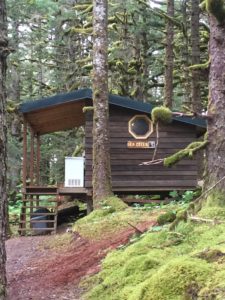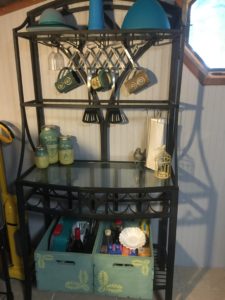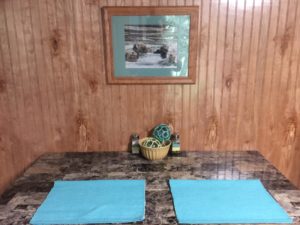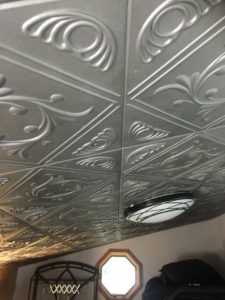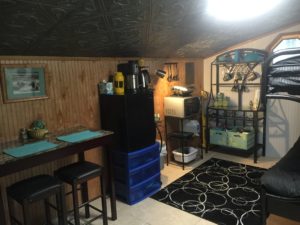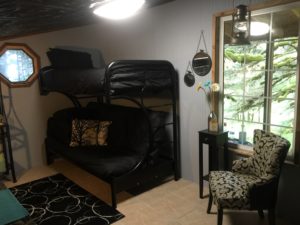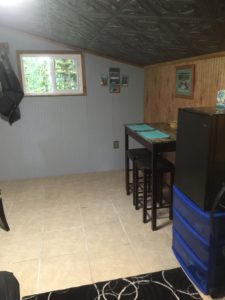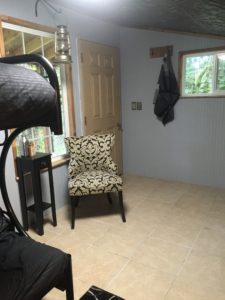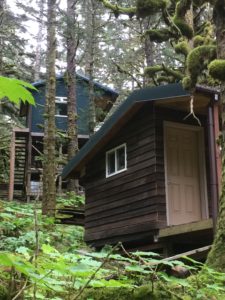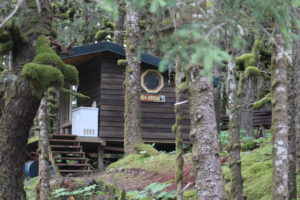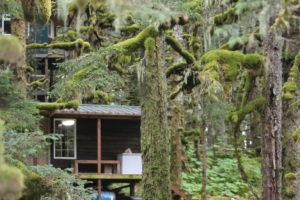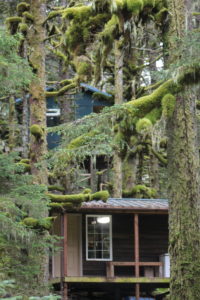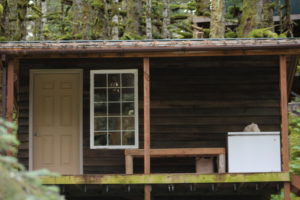 There are three cabins on our Whale Island property.  The Whale Cabin, the Sea Otter Cabin, and the Eagle's Nest.
All of the cabins are dry (no running water), but rainwater is in abundance and stored in barrels.  The outhouse is new and clean, and each cabin is equipped with a camp toilet for those late night urges.  The shower hut is basic, but functional.  Plans are in the work to install a sea water hot tub by the middle of June.
Each cabin is stocked with dry goods, including the essentials (coffee and wine).  In order to have the perishable items one prefers, guests will have to bring groceries with or make arrangements with the hostess. There is bear spray in each cabin.  Firearms are also on the island when the host and hostess are on the island…
Each cabin has a TV  and a DVD/VHS combo.  We have been collecting movies for decades and have a large selection to choose from.  No internet is available and only very limited cell reception (only Verizon works).  For that reason, there is a cell phone on the island that can be used by guests to send and receive texts or calls.  There is no data service on that phone.
There is fuel and a generator for power, a chest freezer for fish storage, and an ATV to assist in bringing up gear from the beach.  There are also very basic fishing supplies (poles, waders, nets).  We also have two sea kayaks, but encourage short close trips as the currents around the island are very dangerous.