Our wonderful customers are the reason we're in business. Here are some of the great things they've said about us.  We'll do everything we can to make sure you're a satisfied customer, too! 
AirBnB Superhost since 2018 with 33 reviews.
What a stupendous (Alaskan!) experience! My partner and I spent 7 days on Whale Island and stayed in Kat's Sea Otter Cabin. It's a snug studio-like cabin with electrical appliances powered by a generator. The outdoor freezer works great– kept our two bags of ice frozen solid even with intermittent power. The sheds are well-stocked and my partner and I were adequately prepared for our stay (food, sat phone, etc.). Pre-arrival (and even on arrival!) when we had questions, Kat was a quick text message/ phone call away. There was enough fuel for us & because we stayed outdoors most of the time (we used the generator about 3-4 hours each day on average) we had plenty in excess. I chose Kat's cabins so that I can write "in peace" and to experience "solitude." Honestly, I expected to stay holed up in the cabin, peering out the windows every now and then to the moss-covered old forest. But, I was wrong! I could NOT stay holed up inside– no way! The island is teeming with wildlife– we sighted otters, seals, oyster catchers, starfish, octopus, eagles, the list goes on! We went fishing when the tide was high and caught different types of fish, went beachcombing when the tide was low and collected shells, sand dollars, and rocks. We hiked on our first day and appreciated the coastal trail. We did see a bear on our second day so that made us Alaskan newbies wary of hiking out in the woods (Kat provided each cabin with bear spray, though!) but that in no way ruined our trip. On our 6th and 7th day, the bear decided to pay the cabins a much closer visit and there was a surprise encounter where we had to use the spray. We gave Kat a call once we were on the mainland and Kat promptly filed an incident report with fish and game. This is truly a place where you have an opportunity to make your own experience. I got the solitude I was craving and so much more. Not much active writing, but plenty of experiencing– which will greatly help me when I do actually sit down in my city apartment in the "lower 48" and dream of this place.

AirBnB review from Guest "D," July 2021
"Wow. Where do I even begin? I am still searching for the words to describe what a unique and incredible place this is. Our view from the Eagle's Nest was unlike anything or anywhere else I've stayed (whether that be a luxury hotel, or primitive camping in the desert). Being tucked away, high in the tree canopy, is an experience hard to beat. Although getting to Whale Island was a challenge, I would do it all over again. Kat is exceptionally communicative and above-and-beyond helpful with every aspect of our stay. I consider Kat a new friend I can reach out to anytime. The trees surrounding the cabin are particularly unique, and, if you're quiet – the animals and birds are a once-in-a-lifetime experience. Be sure to plan enough days to adventure in the kayaks, enjoy the beach, and of course, time for the cabin and awesome patio. Although we didn't go fishing, the other couple that overlapped a night with us, had some spectacular catches. The pee-can was a bonus being high in the treehouse and with mindfulness about using the generator – I can't believe we got to have a refrigerator in such a remote location. Last but not least – the bed in the Eagle's Nest surpasses some of the finest mattresses across a myriad of hotels. Between the lush bedding, and the quiet environment, this is some of the best sleep we've had in years.
"This place was SPECIAL!! If you're a "4 Seasons resort" kind of person, it's not for you. If you have any bit of a sense of adventure, you will hit the JACKPOT with this place!! Glamping at its absolute finest with every special touch you can think of. We kayaked, we hiked, we whale watched, we relaxed, and we reflected on just how blessed our lives are. This is an adventure of a lifetime!! I highly recommend using Kat's suggestion of hiring Salmoncrazy as your transportation too. Probably the best vacation of my life!! Thank you for everything Kat!!""
AirBnb Review from guest "R," July 2021
This island is magical and Kathleen's cabins enhance everything about the experience. Walking around Whale Island felt like walking through Lothlorien or some other elven forest from Lord of the Rings: everything is covered with moss and greener than even the jungles I visited when I lived in India. The proximity to wildlife was spectacular (this is coming from someone who grew up in Montana). I was woken up by otters eating and bald eagles screeching and waves crashing. Every sense was engaged. When it comes to the cabins, she has thought of every detail. I came to Whale Island for the solitude and found it immediately in the cabins, on the beach, in my daily hikes, while kayaking around the cove…everything about the trip exceeded my expectations. One of the best vacations I have ever taken. Thank you!

Thane, 8/19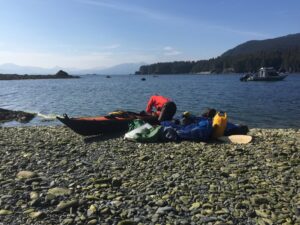 "Cold windy day to start my paddle to the Kenai Peninsula.  Kat and Donnie's place was the perfect base to start.  Yesterday I took a break from packing and took a walk. Here is one place where civilization has retreated. Many deserted structures dot the Kodiak Archipelago. 
Except for those rare golden hours when all is calm and sunny, Alaska is raw and wild.  Only the hardy live out here in the islands. A rare experience for the traveler — Good food and company in the wild."
Douglas, 7/19
Anna and I could not have possibly asked for better hosts! Anna has a tendency to be quite reserved until she gets comfortable, but Whale is very obviously her element, and Kat, Donnie, and Cade seem to be instinctually "her tribe." We are both immensely grateful for this ethereal place, these delightful people, and their otherworldly hospitality.  Do yourselves a favor and trust Kat if she offers you (well…literally anything to eat, but more specifically) FIRESIDE SUSHI!

Anna and Chelsea, 7/19
"Flew in from — had 2 tries landing on Kodiak but pilot pulled up at the last minute. Too foggy. Had to spend the night in Anchorage – Arriving on Whale Island is pretty terrific – it would be hard to overstate how special the Whale Cabin area is. So rich and green – and quiet… The birds – sea otters – baby oyster catchers with parents chasing the eagles away – magnificent dogs – long exploratory walks with plenty of stops to just sit – driftwood heaven – brought materials to draw and watercolor – didn't do any – too busy sitting in different places watching the tide slowly change – watching the eagles – the sea otters crunch on shells – etc. I read the Iliad. Those crazy crow noises – the spongy ground – lollipop tops on short trees – the bird that goes buzzz – first rate out house – low tide starfish – doing drawings with sticks in the sand on those other beaches – classic rugged cliffs – talks with Kat – Donnie is a very careful (good) listener – halibut sushi on the open fire – stacking rocks – the great variety of rocks.
Kat and Donnie were so great; so kind and helpful. It's luxury rustic here. Now back to the hustle and bustle."
— Dave, 7/19
This couple just "accidentally" found us on a kayaking trip. #kayaking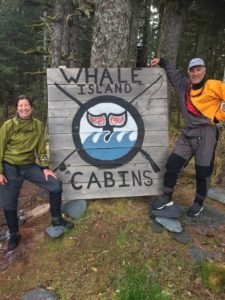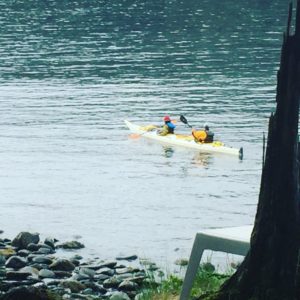 We paddled out from Anton Larsen and stumbled upon Kat and her lovely cabins.  What a pleasant surprise! We left the camping gear in the boat and enjoyed a night of luxury in the cute Otter cabin.  It was nice to have the cookery and kitchen all set up for us.  Kat has thought of everything and was a great hostess.

Thank you, Heather and Bill, 6/18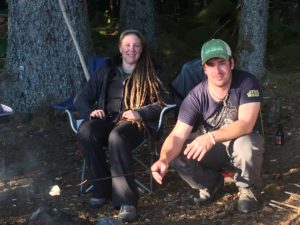 "This will be one of the highlights of your life, and your time in Alaska, I can say with confidence! Magic is the best way to describe the experience of Whale Island. Staying in a beautiful tree house, decorated wonderfully, in the middle of an ethereal, other worldly forest, covered in green moss, is truly the perfect place to be. While this definitely is off the beaten track, and takes a little doing to get there, the effort is well worth it. The views from the beach and the fire, are spectacular, and soothing to the soul. Watching eagles float by, listening to the whales breathe nearby, catching the fish as they jump 
🙂, never gets old, and you'll wish that you didn't have to leave. And not to mention the world class fishing all around you! Kat has thought of everything to make your stay as comfortable as possible and communicates great beforehand and during to let you know everything you might need to know. She truly goes above and beyond, in every way. And if you're lucky enough to meet her and her family in person, that even enriches the experience more. There's also no shortage of things to do, especially if you like exploring on land or water, and yes, the fishing! Relaxing in the cabin, with a good book or movie, is also just the thing, as you have windows on all sides with that spectacular view of forest and the sea. Obviously I'm a fan, and definitely recommend having this as the highlight of your time in Alaska, or if you live here, then a great getaway! We spent over 5 days there, but it definitely wasn't enough…….Will be back!"
–Tina and Adrien, 7/18
What an exceptional place to spend a week off the grid. Whale Island cabins have all the amenities of home.  We flew Island Air over there and our pilot was great. Once we unloaded our gear on the beach, we used the 4-wheeler and trailer to take everything up to the cabin. Once in the cabin we turned on the generator which provided power for  lights. We started a fire in the wood stove and it didn't take long until it was toasty warm inside. We brought groceries from Kodiak and ate like kings the whole week.  We also brought 10 gallons of unleaded for the generator which was plenty to have movie night every night.
I highly recommend Whale Island cabins for the rugged Alaskan or the city slicker. If you are looking for an absolute beautiful place to spend a few days, you will not be disappointed. Kat and Donnie are great hosts and have made this little slice of heaven available for you to experience at a great rate.
I can't wait to go back!
— Nick, 10/16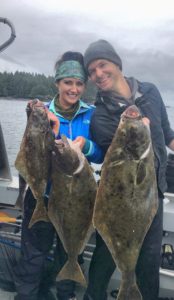 Wow. Whale island is truly a unique and authentic Alaskan experience. Kat and her son were more than accommodating. We couldn't have asked for better hosts! Sadly, we were only there for the weekend. There is so much to do and discover that I would recommend at least staying 5-7 days. The adventures are endless! There's fishing, kayaking, hiking, unbelievable waterfalls, abundant wildlife (not to brag… but we were able to kayak next to a handful of spotted seals, eeeek!!), and the list goes on and on. We will for sure be back to visit Kat and Donnie! I've been all over Alaska and Whale Island is now definitely one of my favorite places in the state. Now that's saying something!! Add it to your list people, you'll be glad you did.
— Kristie, 7/17
If you're looking for a secluded gorgeous place to stay ,Whale Island is the spot. Kat was a fabulous host, working with us on details ( food to pack, fishing charters, etc.). We stayed for 6 nights in the Whale Cabin which has a full kitchen and a comfy bed, it seemed larger than the pictures. Aleut Dance Charters came to Whale Island and picked us up for fishing, We caught  22 and 28 pound king salmon and halibut. That night we cooked up some fresh fish over an open fire. Plenty of exploring moss covered trails, beachcombing, and kayaking. Kat showed us the other cabins, NICE. Kat and her son Cade were helpful getting us settled in, helping with luggage, explaining generator, water or anything we had questions about. Also letting us know how much interaction we wanted with them was up to us, they are definitely fun to hang out with. if you are chained to your internet device this might not be the place for you (or is it?) We would recommend if being remote is your thing!!l Whale Island is on our list of places to revisit. Thanks again Kat!

— Kelly & Mike,  7/17